Have you always wanted to train in classical Kung Fu? This is your chance!
White Lotus Kung Fu offers weekly classes at our new location: 112 East Main St., Ravenna, Ohio. Stop in to take a look at what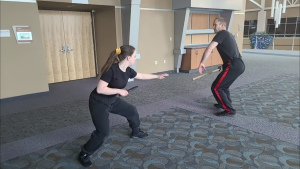 White Lotus Kung Fu has to offer and start your exciting new training. No experience is necessary to get started.
We begin with all of the basics:
Stances and arm exercises for unparalleled strength building
Basic punches, blocks & kicks
Combat drills & maneuvering (floor) drills
Fighting Drills
Cardio & Strength

With over 200 major forms and programs from over 25 different Kung Fu Styles, White Lotus Kung Fu will teach you exactly what you need to successfully reach your goals!
Lose Weight – Get Strong – Defend Yourself
Schedule A Free Consult Right Now
and find out how you can be a real Kung Fu Star!
CLICK HERE